Will Vinyl Siding Increase My Home's Value?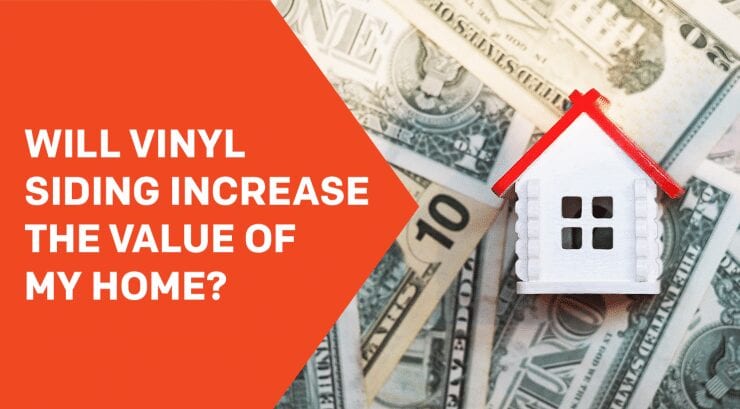 Whether you're planning to stay in your home for a few years or a lifetime, it's important to know which products will add to the value of the home when doing improvement projects. Vinyl siding is a great way to not only make a huge impact on the appearance of a home, but also increase its overall value.
According to Remodeling Magazine's 2018 Cost vs. Value Report, replacing siding increases home value by 76.7% of the project cost; for a mid-sized project valued at $15,072, you can recoup $11,554.
Let's dive into a few ways vinyl siding helps increase home value: beautiful appearance, durability, low maintenance, and energy efficiency.
Beautiful Appearance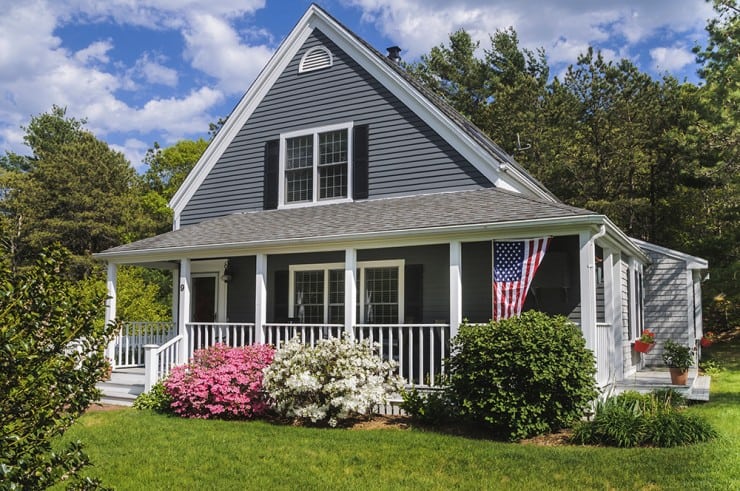 There are many reasons you may want to install new siding on a home: the current cladding is old and faded, there are cracks or dents that are leaving the house susceptible to the elements, or maybe you've even had water damage or pests nesting behind the siding. Whatever the reason, re-siding a home is the perfect opportunity to create an entirely "new" home at the same address.
While other home improvement products like windows and roofing are important and necessary, they don't significantly impact the appearance of the home like new siding can. You can take a home from being the ugliest in the neighborhood to the most beautiful, simply by upgrading the siding.  
Business Insider says you only have seven seconds to make a strong first impression. Sometimes before you even say a word, an impression has been made based on your appearance, body language, and more.
The same goes for a home listed on the market; curb appeal is everything. The way a home looks on the exterior can make the difference between someone stopping to attend an open house or driving past. If the home appears to have a beautiful, well-kempt exterior, prospective buyers may intuitively expect to pay more for the home.
Vinyl Siding is available in a wide range of profiles and colors to create any desired look. Not only can you enjoy the more beautiful exterior while you live in the home, but you can recoup most of the investment when the time comes to sell.
Durability That Protects the Home
A home that looks beautiful when new siding is first installed is great, but what happens to that appearance over time? If the siding installed is not durable, it can be susceptible to damage from storms, breakage from moisture damage, cracking and peeling finishes, and more.
Color Retention & Water Damage
Vinyl siding offers a durable solution for exterior cladding. According to the Vinyl Siding Institute, the products offered by their manufacturer members are tested, certified, and UV protected for color retention, so you can rest easy knowing your siding isn't going to fade over time.
Vinyl siding is a polymeric cladding product, meaning it is completely immune to water damage. You will never have to paint or caulk to seal out the water, or worry about the cladding absorbing moisture.
Other siding products such as fiber cement have a porous core that can absorb moisture and lead to problems down the road.
Wind & Impact Resistance
Vinyl siding is built to protect homes from the elements, designed to withstand winds of 110 mph or higher, depending on the product and application.
When Hurricane Irma slammed Punta Gorda in September 2017, average wind gusts ranged between 111-130 mph. The Gulf Breeze community, featuring 171 family units, had been clad with insulated vinyl siding prior to the storm and sustained no visible damage or water infiltration.
Insulated vinyl siding is traditional vinyl siding with an energy-saving foam core permanently adhered to the back. This combination provides significantly improved impact resistance, with the foam insulation serving as a shock absorber. Whether the home is up against hail, rocks thrown from the lawnmower, or the neighbor's baseball, insulated vinyl siding provides maximum durability to protect the home and it's appearance.
Check out our previous article Vinyl Siding vs. Insulated Vinyl Siding to determine which product is best for your project.
Low Maintenance
Homebuyers these days place a high value on low maintenance products and features that give them back precious time and money. A house clad in cedar shake siding may have a beautiful appearance, but the commitment of time and cost required to regularly repair and maintain the product quickly puts a drain on the homeowner.
Vinyl siding is the most popular cladding product in America, no doubt due in part to the low maintenance required to upkeep its beautiful appearance. Unlike other siding products, vinyl never needs to be painted or caulked. Simply clean it with mild soap and water from a garden hose as needed.
Energy Efficiency
As mentioned earlier, insulated vinyl siding provides maximum durability, but the foam backer serves as more than a shock absorber for impact. The contoured insulation also adds energy efficiency to the siding job, helping to reduce heating and cooling bills and make the interior of the home more comfortable and quiet.
Experiencing lower utility bills as long as they live in the home is appealing to many buyers. Coupled with a beautiful appearance, low maintenance, and durability, vinyl siding is an excellent choice for homeowners wanting to increase their home value, or make it more attractive to prospective buyers.
Summary
Adding new vinyl siding to your home can increase the value by approximately 76.7% of the project cost, according to Remodeling Magazine. One key thing to consider is whether the siding you select will maintain that value after it has been subjected to mother nature, or the neighbor's baseball. It's important to select a product that will be durable enough to weather the elements, look just as good as the day it was installed for years to come.
Products like insulated vinyl siding not only protect the home from damage and maintain its like-new appearance, but also provide other benefits such as energy savings. To learn more, check out our article "Is Insulated Siding Right For You?".