Fiber Cement Siding Cost: A guide to Pricing, Estimates and ROI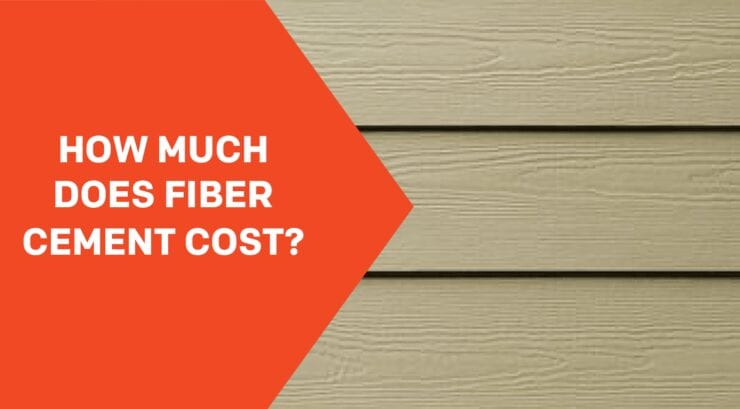 If you're re-siding your home, the first thing you want to know is how much it will cost, right?
This question is very difficult to answer because every home is different, and there are many options for material, profile, color, and brand on the market today. Buying new siding is similar to buying a number of things, prices can vary drastically based on which options you select.
Things that can impact siding cost:
Location of the home
Size of the home
One, two, or three stories
What siding is currently on the home
Will the old siding need to be removed first
If any previous damage to the home is discovered after the siding is removed
Number of windows, doors, and other openings that must be worked around
Which color or profile you chose
What type of trim is used
Time of year the siding is installed
Adding house wrap or another weather resistive barrier
Additional features to protect against damage from moisture or pests
Energy savings rating (r-value) of the insulation you chose
Qualifications of the installation company - licensed, bonded, insured?
General Pricing Guidelines for Fiber Cement
In general, fiber cement siding costs anywhere from $5.00- $13.50 per square foot installed. The brand of siding, the accessory package, the qualifications of the installer, etc. can all significantly impact the cost of the project.
The cost of fiber cement is comparable to wood, engineered wood, and insulated vinyl siding, but is more expensive than traditional vinyl siding.
Fiber cement siding is made from a mixture of sand, cement, and cellulose fibers. It is traditionally available in planks, shingles, and flat boards for vertical applications. It can come pre-painted or pre-stained and can be painted any color you desire.
Fiber cement offers minimal energy savings at .15 r-value but can be installed with fanfold or insulating sheathing products to improve the r-value of the whole siding system.  
Fiber cement is hard to the touch, but because it is heavier and made of cementitious material, it can be prone to cracking and chipping. It is also considered an absorptive cladding, meaning it can absorb moisture, which can lead to problems such as rot.
Return on Investment for Fiber Cement
The Cost vs. Value report, published by Remodeling Magazine, provides an estimate of how much cost from home improvement projects will be recouped by adding value to the home.  
The 2019 report shows that a siding replacement recoups 75.6% of the cost, significantly better than a bathroom addition (58.1%), a major kitchen remodel (59.7%), roof replacement (68.2%), or even replacing windows (70.8%).
Keep in mind these costs do not include routine maintenance. Fiber cement requires regular caulking and repainting to protect the siding. Paint can cost anywhere from $1.5-3/sq.ft. which is about $3,000-$6,000 every time it's done.
How Much Siding Will Your Project Require?
Knowing the estimated cost of siding per square foot is good, but it's not very useful unless you know how much siding your home will require. Below are some general guidelines to determine the amount of siding you will need.
Because every home is different, we recommend always contacting a qualified professional to get accurate measurements.
Square and Rectangular Walls
Height x width = total per wall
Do not subtract any entry doors or windows, unless it's a large picture window.
You will subtract the area of the garage door if you have one.
Gables
Height x width x .75 = total per gable
If a gable is hard to reach, a quick trick is to measure the height of the current siding profile, then multiply by the number of courses on that wall section.
Dormers
Height x width x 1.5 = total per dormer (this gives you enough material for both sides)
Add up the area from all walls to give yourself a rough idea of how many square feet of siding your home will require. Check out this short video for more detail about measuring for siding.
Examples
The average home requires 1500 - 2500 square feet of siding material.
1,000 square feet of siding = $5,000 - $13,050
1,500 square feet of siding = $7,500 - $20,250
2,000 square feet of siding = $10,000 - $27,000
2,500 square feet of siding = $12,050 - $33,750
Other Siding Options
Engineered Wood Siding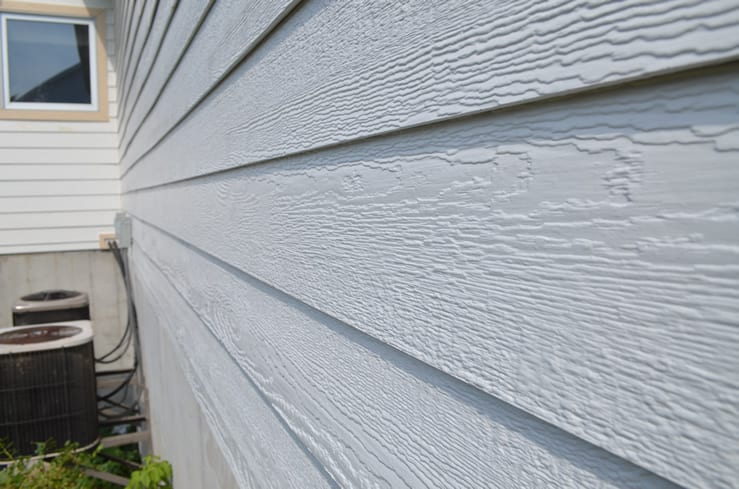 Engineered wood siding is compressed wood coated with a resin binder to create one solid piece of siding. The siding is embossed with a cedar-grain pattern used to replicate the look of real wood.
These products come in a wide variety of profiles including lap and panel siding. You can choose between pre-primed products and have the home painted after the product is installed, or choose a panel that is pre-painted and ready to install.
Since engineered wood is still considered a wood product, it is susceptible to rot and moisture damage.
Engineered wood products cost around $5.00 – 9.00 per sq.ft. Like Fiber cement, these products require routine maintenance such as painting and caulking, which can add significant cost to the long term price tag.
Insulated Vinyl Siding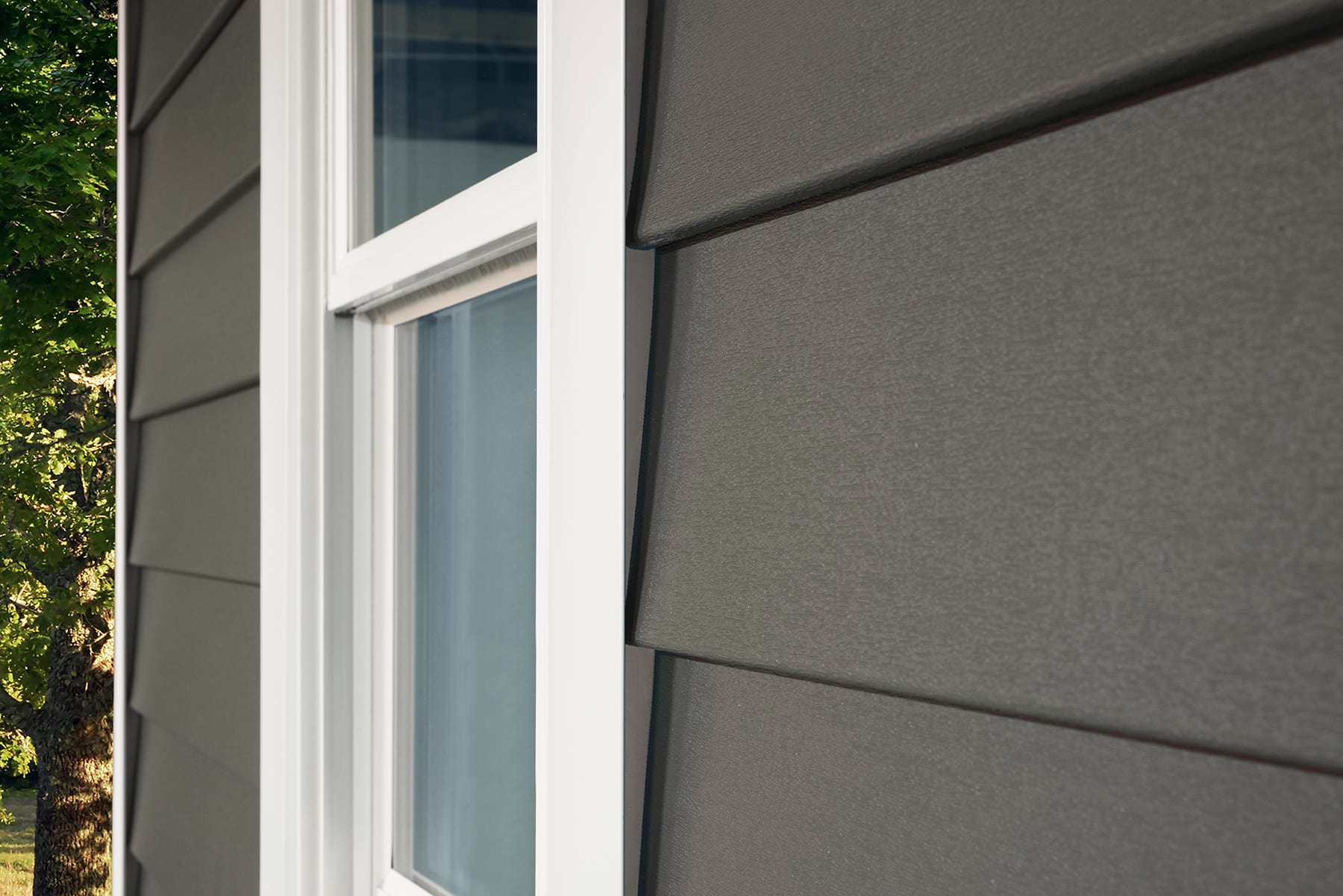 Insulated siding is made of a contoured rigid foam backing permanently adhered to vinyl siding. The insulation component of insulated siding is made of expanded polystyrene (EPS) rigid insulation, contoured to perfectly fit the profile of the vinyl siding. The insulation is permanently adhered to the vinyl siding panel during the manufacturing process.
Insulated siding helps reduce heating and cooling costs by wrapping the home in a continuous blanket of insulation, keeping heat inside in the winter and outside in the summer.
The insulation component helps create a great looking exterior by leveling the wall under the siding, reducing imperfections in the wall. The contoured insulation also provides more support to the siding panel, helping it maintain it's shape and appearance over time and significantly increase durability.
Insulated siding features a perm rating of up to 5.0, allowing your home to breathe and protecting against moisture damage. The foam insulation is also treated with an insecticide that is safe for people and pets but protects the insulation from termite damage.
Insulated Vinyl Siding is maintenance free and requires only periodic cleaning with a garden hose and some soapy water to maintain its original appearance over time.
In general, insulated vinyl siding costs anywhere from $4.00 - $12.00 per square foot installed, although some projects may fall outside this range. Read more about the differences between insulated vinyl siding and fiber cement here.

Final Thoughts
There are many factors that can affect the cost of your siding, no matter what product you chose. To get an accurate cost, it's critical that you contact a qualified contractor who can show you the best options for your home and provide an accurate price.
Do your research before selecting a contractor. There are many websites available today where you can check what other consumers are saying about local contractors. For instance, Angie's List, Service Magic, Yelp and the Yellow Pages are good resources to gather recommendations or complaints. You can also request references from the contractor directly. Learn more about how to choose a contractor here