What is Fiber Cement Siding? Everything you Need to Know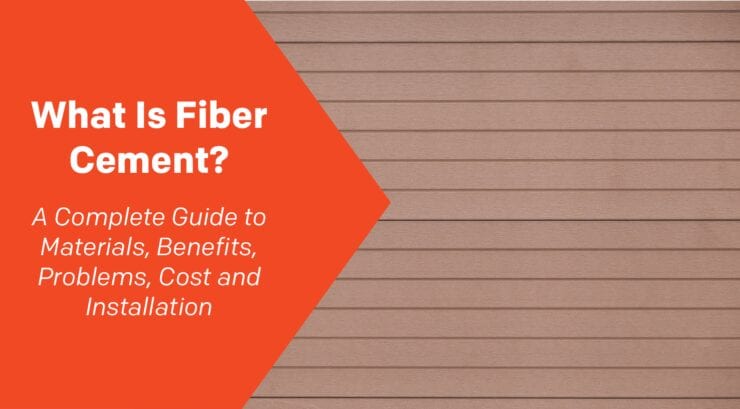 Fiber cement siding, also known as Hardie Board is a siding material that was introduced to the market in the 1980's as a replacement for asbestos cement siding products. It has become common in some parts of the country, offering design versatility and a solid feel. Some fiber cement siding manufacturers include James Hardie, Nichiha, and Allura.
When researching exterior options for your home, it's important to understand the benefits, problems, cost and installation of each product. This article will explain what fiber cement siding is made of, what the pros and cons are, how it is installed, how much it costs and some alternative options.
What is Fiber Cement Siding Made Of?
Fiber cement siding is made from a mixture of sand, cement, and cellulose fibers. Asbestos was originally used as the reinforcing material in fiber cement but was replaced with cellulose in the 1980's due to safety concerns. 
What Are the Benefits of Fiber Cement Siding?
Beautiful Appearance
Fiber cement is traditionally available in planks, shingles, and flat boards for vertical applications. It can come pre-painted or pre-stained, and can be painted any color you desire. Fiber cement has an infinite number of color options because it is painted after installation. Fiber cement products are also known for their wood like appearance. 
Durability
Most siding products are made to make a home look great, fiber cement can provide a durable exterior solution for your project. Fiber cement is hard to the touch, but because it is heavier and made of a cementitious material it can be prone to cracking and chipping.
What Are The Problems With Fiber Cement Siding? 
Maintenance
Products like Hardiplank fiber cement siding will require regular painting to maintain their beautiful appearance, unlike other sidings such as brick or vinyl.
Some factory-painted siding panels are available, and come with up to 15 year warranties that cover peeling, cracking, and chipping. However, many homeowners find themselves needing to repaint their home sooner, and warranties can be very particular about what is covered.
Moisture 
Absorptive claddings like fiber cement can hold moisture, leading to panel damage, rot, and even mold problems. It is critical that all installation steps are very carefully followed by a professional to ensure all penetrations and gaps are properly treated with the appropriate paint or caulk to protect the panels from moisture infiltration.
A third party study by Home Innovations Research Labs spanning the course of over a year shows that fiber cement retained less moisture than products like stucco and manufactured stone, but performed worse than brick, vinyl siding, and insulated vinyl siding.
Energy Efficiency
Fiber cement is a cementitious product, therefore it serves as a bridge for energy loss, compared to other more energy-efficient siding products.
According to Table 5-1 of the ASHRAE Fundamentals Handbook, fiber cement has an r-value of .15, better than brick and stone, but lower than vinyl at R-.60, wood at R-.81, and insulated vinyl siding at R-2.0 - 3.5. The American Society of Heating, Refrigerating, and Air-Conditioning Engineers (ASHRAE), is the leading source on design and construction related to heating, cooling, and energy efficiency.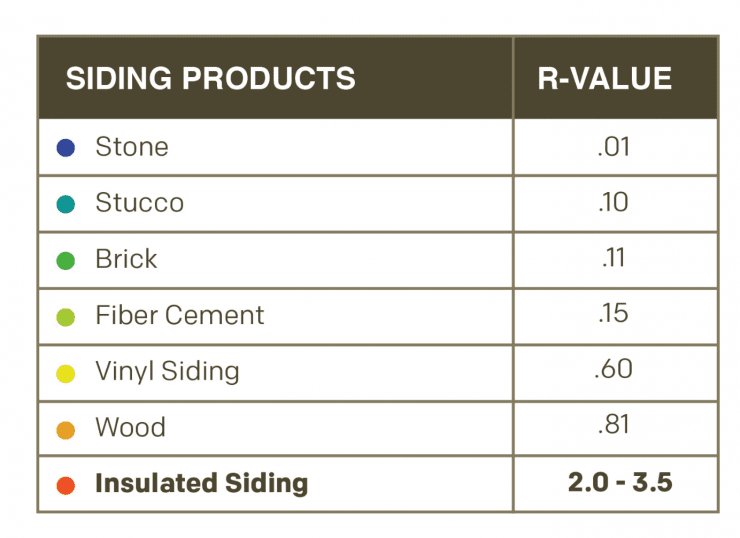 Houses with fiber cement siding can be insulated by adding a layer of energy-saving foam underneath. However, this creates a second step in the install process. Alternative products like insulated vinyl siding add insulation and siding in one step, for an easier, more cost-effective installation. Read more about insulated vinyl siding vs. fiber cement.
How Much Does Fiber Cement Siding Cost?
In general, fiber cement siding costs anywhere from $5.00- $14.50 per square foot installed. The brand of siding, the accessory package, the qualifications of the installer, etc. can all significantly impact the cost of the project.
The cost of fiber cement is comparable to wood, engineered wood, and insulated vinyl siding, but is more expensive than traditional vinyl siding. Read more about the cost of fiber cement here.
How Is Fiber Cement Siding Installed?
The Installation of fiber cement siding can vary depending on the manufacturer. It is extremely important to follow the manufacturer's installation instructions to avoid future issues with the siding panels.
In addition to religiously following installation instructions, installers must also take special steps to protect their health when installing fiber cement. Cutting fiber cement siding generates respirable crystalline silica, a known human carcinogen. Inhaling too much silica can lead to silicosis, lung cancer, and other health problems. Visit www.silica-safe.org for more information. Special saw blades, ventilation, and respirators can be used to limit silica inhalation to a safe level during installation.
Fiber cement can also be brittle before being installed on the wall. Care must be taken to properly store panels, which generally require two people to carry and install. Attention must be paid to the types of nails and guns used to prevent blowouts at the point of fastening on the panel.
This video demonstrates the steps for installing fiber cement siding.
How To Install Fiber Cement Siding  (Allura USA)
Alternative Siding Options
Engineered Wood Siding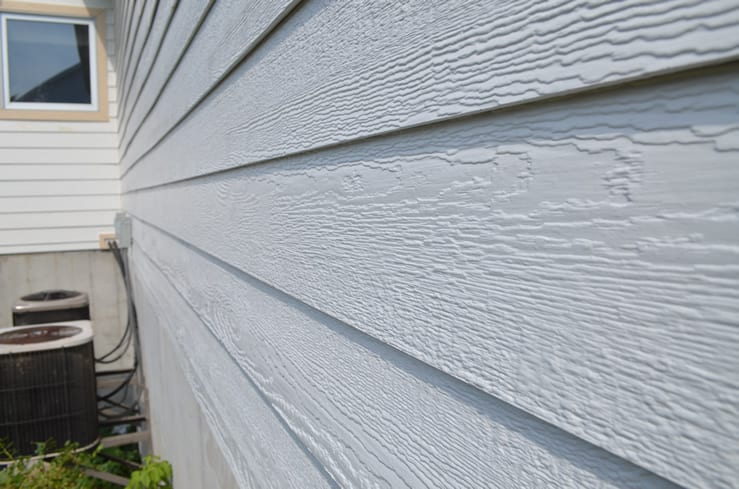 Engineered wood siding is compressed wood coated with a resin binder to create one solid piece of siding. The siding is embossed with a cedar-grain pattern used to replicate the look of real wood.
These products come in a wide variety of profiles including lap and panel siding. You can choose between pre-primed products and have the home painted after the product is installed, or choose a panel that is pre-painted and ready to install.
Since engineered wood is still considered a wood product, it is susceptible to rot and moisture damage.
Engineered wood products cost around $5.00 – 9.00 per sq.ft. Like Fiber cement, these products require routine maintenance such as painting and caulking, which can add significant cost to the long term price tag.
Insulated Vinyl Siding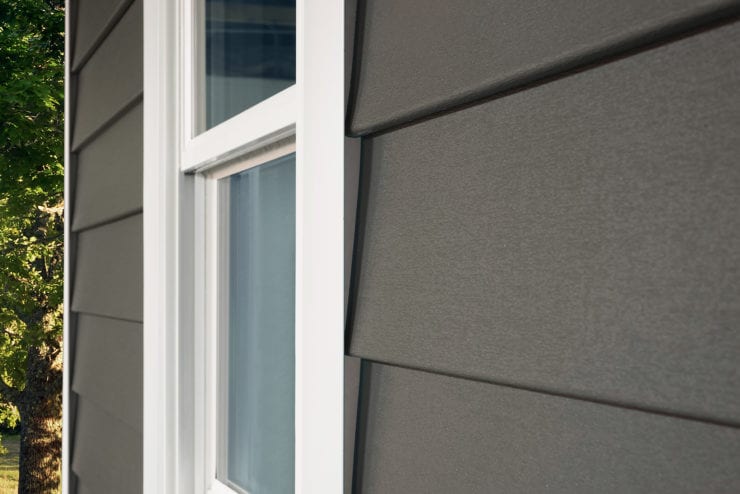 Insulated siding is made of a contoured rigid foam backing permanently adhered to vinyl siding. The insulation component of insulated siding is made of expanded polystyrene (EPS) rigid insulation, contoured to perfectly fit the profile of the vinyl siding. The insulation is permanently adhered to the vinyl siding panel during the manufacturing process.
Insulated siding helps reduce heating and cooling costs by wrapping the home in a continuous blanket of insulation, keeping heat inside in the winter and outside in the summer.
The insulation component helps create a great looking exterior by leveling the wall under the siding, reducing imperfections in the wall. The contoured insulation also provides more support to the siding panel, helping it maintain it's shape and appearance over time and significantly increase durability.
Insulated siding features a perm rating of up to 5.0, allowing your home to breathe and protecting against moisture damage. The foam insulation is also treated with an insecticide that is safe for people and pets but protects the insulation from termite damage.
Insulated Vinyl Siding is maintenance free and requires only periodic cleaning with a garden hose and some soapy water to maintain its original appearance over time.

In general, insulated vinyl siding costs anywhere from $4.00 - $12.00 per square foot installed, although some projects may fall outside this range. Read more about the differences between insulated vinyl siding and fiber cement here.
Final Thoughts
Fiber cement is a common siding product that can improve the appearance of a home, but it also has some disadvantages compared to other products available today. Before investing in new siding, it's critical to determine which characteristics are important for your particular project.