Vinyl Siding vs. Insulated Vinyl Siding: The Ultimate Comparison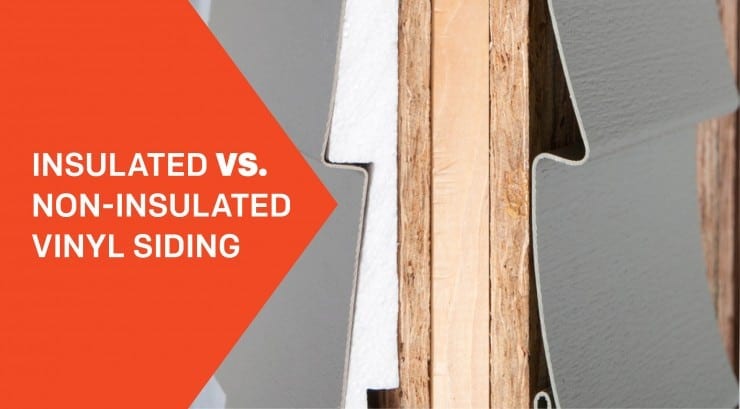 As the inventors of insulated vinyl siding (also known as foam backed siding), you may be surprised to hear us say that insulated vinyl siding isn't for everyone. As much as we think insulated vinyl siding is the best product for most applications, there may be some situations where other products could be a better fit. We want to make sure you have accurate information at your fingertips to make the best decision for your project. This post was written to discuss vinyl siding vs. insulated vinyl siding 
Vinyl Siding vs. Insulated Vinyl Siding
If you're considering vinyl siding, you can choose between insulated vinyl siding and non-insulated vinyl siding. Let's go through how these two siding types compare in the following categories:
Cost

Appearance

Energy Savings

Installation

Durability

Moisture Management

Resale Value
Cost (initial and lifetime)
There are many factors that can impact the initial cost of vinyl siding, depending on what features and benefits you select.
For instance, the location and size of your home, the number of windows and doors that must be worked around, lighter shades or premium dark colors, which accent trim will be used, and much more can change the price, all of which we will discuss more in the paragraphs below. Whether you install it yourself or use a qualified contractor with trained crews, insurance, and more can also impact the job cost.
Insulated vinyl siding costs anywhere from $4.00 - $12.00 per square foot installed, although some projects might fall outside of this range. In general, insulated vinyl siding is going to be more expensive than non-insulated vinyl siding simply because there is more material in the product, it is bulkier and therefore more expensive to ship, and it can require additional steps for installation. Insulated vinyl siding also comes in more premium colors and profiles to create a beautiful exterior, but that makes it more expensive to manufacture.
Luckily insulated and non-insulated vinyl siding are both the lowest maintenance siding products available on the market today, reducing their lifetime costs compared to other products. While sidings like fiber cement and wood require regular scraping, painting, and caulking, vinyl siding only requires an occasional cleaning with a standard scrub brush, soap, and water from the house.
Insulated vinyl siding is the only product that can reduce utility bills through energy savings, reducing its total cost over time. And because it helps protect the home from impact damage (read more below), it can reduce the number of repairs that must be done to the siding over time.
For more information on cost, check out our article Insulated Vinyl Siding Cost: A Guide to Pricing, Estimates, and ROI >
Winner: Non-Insulated Vinyl Siding (initial cost), Insulated Vinyl Siding (lifetime cost)

Appearance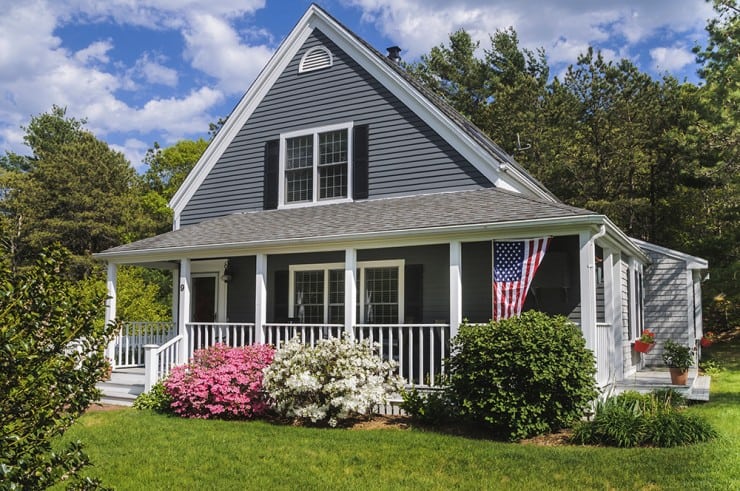 Considering exterior walls are a huge part of the curb appeal of a home, replacing old, worn out siding is a great way to significantly improve appearance almost instantly. Dark, bold colors like navy blue, barn red, and even charcoal have become very popular in recent years, adding a rich pop of color to homes.
Whether you want your house to stand out on the block or blend into the surroundings, there are tons of options, whether using insulated or non-insulated vinyl siding. However, there are some differences in the appearance of these products.
For starters, insulated vinyl siding features contoured foam that provides support to the siding panel. This added support allows vinyl siding manufacturers to not only make products in the dark, rich colors that previously struggled with extreme temperatures from the sun, but also in wider, flatter profiles than ever before. The supportive foam helps maintain sharp, crisp profile lines that best emulate the appearance of real wood.
The foam insulation also helps level the wall under new siding. Homes settle and walls shift over time, creating imperfections that can be seen through thin siding products. By adding a cushioning layer of insulation, insulated vinyl siding can help eliminate the appearance of imperfect walls.
Finally, contoured foam insulation helps protect insulated vinyl siding from impact damage. Traditional, non-insulated vinyl siding creates a hollow void between the siding and the wall, leaving the panel susceptible to impact damage from baseballs, rocks thrown from lawnmowers, or other projectiles.
By significantly increasing impact resistance, insulated vinyl siding will protect a home from damage and maintain the beautiful like-new appearance for many years.
Winner: Insulated Vinyl Siding
Energy Savings & Comfort
It's safe to assume that an insulated vinyl siding product is going to provide more energy savings over time than vinyl siding without any insulation. In fact, third party studies show that an existing 2-story home without cavity insulation can reduce heating and cooling costs by an average of 14.2% by adding insulated vinyl siding.
Even if you have pink insulation in your walls, you are still losing energy through a process called thermal bridging. The U.S. Department of Energy recommends insulation to be installed on the outside of a home when new siding is installed.
Check out our previous article, Is Insulated Vinyl Siding Right for You?, to learn more about this energy loss and how insulated vinyl siding helps reduce utility bills.
Aside from monetary savings, you can also improve the comfort level of a home by adding insulation to new siding. Are there rooms in your home that are too cold to enjoy in the winter, or too hot and uncomfortable in the summer?
Adding insulated siding is like wrapping the whole home in a blanket that helps keep heat inside in the winter, outside in the summer, and money in the bank all year.
Winner: Insulated Vinyl Siding
Installation
Installing insulated vinyl siding is not a far departure from non-insulated siding for those that are experienced. However, the additional thickness of the insulation adhered to the siding does create some challenges that must be understood prior to installation.
While traditional vinyl siding can be cut with a pair of hand snips, it is best practice to cut insulated vinyl siding with a saw. You must use a fine tooth blade or a siding specific blade, installed backwards in the saw to help prevent chipping or cracking while cutting.
The trickiest part of installing insulated vinyl siding is trimming out windows, doors, and other openings. Special accessories with larger receiving pockets are required to accept the full thickness of the siding and the foam. Sometimes the trim around the wall must be built out prior to the siding being installed to accommodate the insulation component.
Although an experienced siding installer will be able to easily to transition to insulated vinyl siding after one or two jobs, it is important to pay attention to the details and spend time understanding the required accessories and prep work.
Winner: Non-Insulated Vinyl Siding
Durability
Over the years, traditional vinyl siding has acquired a reputation for not being the most durable siding option available on the market. Many advancements have been made in the manufacturing of vinyl siding to improve it's durability and resistance to ailments like fading, cracking, and warping.
Although vinyl siding serves as a great barrier between your home and mother nature, the hollow void created between the siding and the wall still leaves the panel susceptible to damage. Take a look around your neighborhood and you'll probably be able to find signs of vinyl that has been damaged from hail, rocks thrown from the lawnmower, the neighbor's baseball, and more. Vinyl siding has many benefits such as low maintenance, long-lasting life, and affordability, but resistance to impact has not been it's strongest feature.
That is, until insulated vinyl siding came into the market in the 1990's. By adding a layer of contoured foam insulation that completely fills the gap between the siding and the wall, the impact of the panel significantly improved. The foam insulation and vinyl siding are permanently adhered together, creating one complete, durable panel.
Many torture tests have been done on insulated vinyl siding to show the significantly improved impact resistance of insulated vinyl siding. Check out this high speed video showing an ice ball shot from a cannon at traditional vinyl siding, then insulated vinyl siding.
If that weren't enough, the foam component of insulated vinyl siding features a built-in insecticide which is safe for people and pets, but protects the foam from termite damage. If your home has any termites burrowing into the foam looking for shelter, they will be killed by trying to bite the foam. Just another layer of protection for the siding and your home.
Winner: Insulated Vinyl Siding
ReSale Value
When making a major improvement to your home, such as having new siding installed, you want to be sure it improves the value of your property, and that if the time comes to sell your home, you will get more from it.
Every year Remodeling Magazine puts out a report stating how much a homeowner can expect to recoup from their investment in new siding. According to the 2017 study, 76.4% of siding replacement costs are recouped, which is significantly higher than a major kitchen remodel at 65.3%, roof replacement at 68.8%, and even a window replacement at 73.9%. As an example, if you spend $20,000 on a siding replacement, you can expect to recoup $15,280, leaving the true cost of your siding around $4,720.
The final factor to consider when calculating return on investment is long term energy savings. By installing traditional vinyl siding without insulation, you will never gain money back over time.
With insulated vinyl siding, the average 2-story home without cavity insulation experiences an average savings of 14.2% on heating and cooling costs. Let's say you're spending $250 per month on heating and cooling. If your home is similar to the test house, you could be saving $425 per year, every year you are in the home. This reduced utility cost can also make your home more appealing to potential buyers in the future.
It's also important to make sure the siding you select will maintain its appearance until the time comes to sell your home. If you select the cheapest vinyl siding that cracks, dents, or fades over time, it's likely you won't recoup the full 76.4% anticipated by Remodeling Magazine. You need to be sure to have a product on your home that will look as good as the day it was installed.
Winner: Depends on your situation; Non-Insulated Vinyl Siding can provide a quick return on investment, but Insulated Vinyl Siding can have a better ROI if you're staying in the home for awhile.
Final Thoughts
Non-Insulated Vinyl Siding Works Well If You:
To tie it all together, non-insulated vinyl siding tends to work well if you...
Have a lower budget for the siding project
Aren't concerned about the long term appearance / durability of the siding, like when flipping a home for quick sale
Plan to install it yourself but have limited installation experience
Insulated Vinyl Siding Works Well If You:
On the other hand, insulated vinyl siding works well if you...
Plan to stay in the home and want to protect it from impact or other sources of damage.
Have some room in your budget to pay for the energy saving insulation up front and earn it back with reduced utility bills.
Understand the additional installation steps required to do a quality insulated vinyl siding installation
Need help deciding is Insulated Vinyl Siding is right for you? Check out this article to see if you can benefit from selecting insulated vinyl siding for your specific project.