Insulated Vinyl Siding Cost: A Guide to Pricing, Estimates, and ROI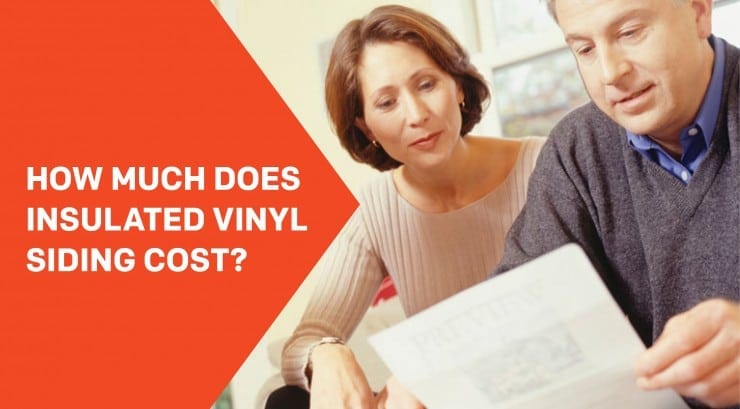 One of the most common questions we receive from homeowners that are shopping for new siding is: How much does insulated vinyl siding cost?
This question is very difficult to answer because every home is different, and there are many options for material, profile, color, and brand on the market today. Buying new siding is similar to buying a vehicle; prices can vary drastically based on which options you select.
Do you need a car, van, or truck? Do you prefer all-wheel drive, power windows, leather or cloth interior?
How about a sunroof, chrome finishes, a backup camera or GPS? Do you prefer a two-door or four-door, maximum gas mileage or more towing capacity?
If you're commuting an hour each direction every day or using your vehicle as a work tool to get the job done, your needs may be drastically different.
Things that can impact insulated vinyl siding cost are

:
One, two, or three stories
What siding is currently on the home
Will the old siding need to be removed first
If any previous damage to the home is discovered after siding is removed
Number of windows, doors, and other openings that must be worked around
Standard or premium profiles be used, such as shake, board and batten, etc.
Lighter shades or premium, darker colors
Accent trim package selected
Time of year the siding is installed
Adding housewrap or another weather resistive barrier
Additional features to protect against damage from moisture or pests
Energy savings rating (r-value) of the insulation
Qualifications of the installation company - licensed, bonded, insured?
General Pricing Guidelines for Insulated Vinyl Siding

In general, insulated vinyl siding (also known as foam backed siding) costs anywhere from $4.00 - $12.00 per square foot installed, although some projects may fall outside this range. The grade of siding, the accessory package, the qualifications of the installer, etc. can all significantly impact the cost of the project. Insulated vinyl siding is typically more expensive than traditional non-insulated siding, but comes with valuable benefits. To learn more about the benefits of insulated vinyl siding, check out What is Insulated Siding: Materials, Pros, Cons, and Installation>
Insulated vinyl siding is typically made with high grade vinyl siding to better protect it from damage, fading, or warping. It is also available in more premium profiles such as double 6" or single 7" and darker, richer colors than traditional vinyl.
During the manufacturing of insulated siding, the contoured foam insulation is permanently adhered to vinyl siding, giving it more stability but adding a step in the process. To see this process in action check out this video on Making Insulated Vinyl Siding.
Due to the added thickness of the foam, fewer pieces can fit in a box than traditional siding, making it slightly more expensive to ship to a job.
The thickness can also require additional steps during installation.  Special accessories and trim work around windows and doors can be required, adding to the cost of the job.
Return on Investment for Insulated Vinyl Siding

The Cost vs. Value report, published by Remodeling Magazine, provides an estimate of how much cost from home improvement projects will be recouped by adding value to the home.  
The 2017 report shows that a siding replacement recoups 76.4% of the cost, significantly better than a bathroom addition (53.9%), major kitchen remodel (65.3%), roof replacement (68.8%), or even replacing windows (73.9%).
Therefore, if your new siding cost $20,000, you could expect to recoup $15,280 dollars in added value to your home, leaving the true cost at $4,720.
Insulated vinyl siding will also reduce the heating and cooling costs for your home, helping to pay back the original cost over time.

Financing Options
Another benefit of working with a professional contractor to install insulated vinyl siding is that many offering financing options, some with zero or low-interest rates, to help spread out the cost of new siding.
With some standard options available to insulated vinyl siding contractors such as Greensky Financing, a $20,000 siding job can be financed for as low as $250/mo. For 120 months.
This way you can hold onto your money longer and spread out the expensive of a new siding job over a longer period of time.
How Much Siding Will Your Project Require?

Knowing the estimated cost of siding per square foot is good, but it's not very useful unless you know how much siding your home will require. Below are some general guidelines to determine the amount of siding you will need.
Because every home is different, we recommend always contacting a qualified professional to get accurate measurements.
Square and Rectangular Walls
Height x width = total per wall

Do not subtract any entry doors or windows, unless it's a large picture window.
You will subtract the area of the garage door if you have one.
Gables

Height x width x .75 = total per gable

If a gable is hard to reach, a quick trick is to measure the height of the current siding profile, then multiply by the number of courses on that wall section.
Dormers

Height x width x 1.5 = total per dormer (this gives you enough material for both sides)
Add up the area from all walls to give yourself a rough idea of how many square feet of siding your home will require. Check out this short video for more detail about measuring for siding>
Examples
The average home requires 1500 - 2500 square feet of siding material.

1,000 square feet of siding = $4,000 - $12,000
1,500 square feet of siding = $6,000 - $18,000
2,000 square feet of siding = $8,000 - $24,000
2,500 square feet of siding = $10,00 - $30,000
Other Important Terminology
When gathering quotes, you may hear some other terminology related to the installation of new siding. A few of those are listed below, although there may be more accessories required for your specific project
Squares

 
Siding is typically ordered in "squares." One square of siding is simply 100 square feet of material. Therefore, if you estimate the exterior of the home is 2,000 square feet, it would require 20 squares of siding.
J-channel
A popular accessory piece used to trim out windows, doors, and other openings on the wall. J-channel provides a pocket for the insulated vinyl siding to slide into for a finished look.
Corner posts 
Installed at the all exterior corners of the house, corner posts also feature a pocket for the siding panel to slide into. Corner posts can be a little difficult for novice installers to install perfectly, so we recommend always using an insulated corner post insert - these snap in to the vinyl corner post to provide rigidity and protection from impact damage, and also complete the blanket of insulation around the home.
Inside posts
Inside corner posts are used anywhere two corners come together to form an inverted 90 degree angle, such as under a porch covering. These posts provide a clean pocket for the siding to slide into.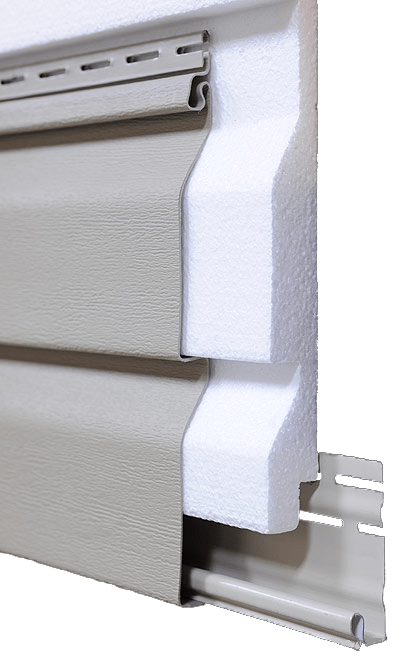 Starter Strips

Insulated vinyl siding panels lock together as they are installed up the wall, but the first panel requires a starter strip to kick things off. Contractors will snap a chalk line to ensure the starter strip is straight, then the first panel of siding will be locked in before being nailed to the wall.
Aluminum coil
Many times contractors will use aluminum coil and a break to fashion custom flashing and coverings from trim and other parts of the installation. For insulated vinyl siding, the trim pieces must sometimes be built out to accommodate for the additional thickness of the foam. A skilled contractor will use aluminum coil to cover the built out trim for a clean, finished look. Check out this video about capping with aluminum coil>
Final Thoughts
To get an accurate cost of insulated vinyl siding for your project, it's critical that you contact a qualified professional who can show you the best options for your particular home.
Be wary of contractors who present you with an insanely low price - they may be cutting corners or leaving out critical components that could cost you more money once the job is done.